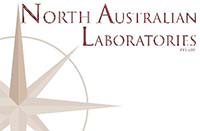 Headquartered in Nottingham, UK, Phenna Group's aim is to invest in and partner with selected niche, independent Testing, Inspection, Certification and Compliance (TICC) companies that serve a variety of sectors, ensuring customers' peace of mind by delivering first class assurance services. This acquisition augments our Australian metals & minerals platform and adds geographical extension and additional capacity to our growing market position.
Established in 2001 by Ray Wooldridge, NAL has been providing services to the Northern Territory and Northern Australian gold and base metal mining industry for 20 years. NAL has a unique position being located in Pine Creek, Northern Territory, being the only lab in the region with their capability. They have built a very strong reputation over the years by providing high quality service and good TAT. NAL consists of one laboratory with extensive sample preparation facilities and equipment with a focus on gold and multi-element analysis including base and battery metals.
The entire NAL team will continue to provide the same dependable analytical services they always have and partnering with Phenna Group will facilitate further growth of the business.
Ray Wooldridge, MD of NAL commented, "Anastasia and I are delighted to partner with Phenna Group. Making a decision like this after many successful years was a careful consideration for me and my family and from the minute we met with Paul, Brett and the Phenna Team we confirmed that we were making the right decision. I'm looking forward to exciting times that lie ahead as we continue to grow the business together."
Brett Coleman, Regional MD, Australia said, "It is very exciting to have Ray, Anastasia and their team partner with Phenna Group. Over a number of years they have grown a very successful business servicing customers throughout Australia. I am looking forward to working with them to develop and grow their business as they continue to provide their customers with exceptional service"
Paul Barry, Group CEO of Phenna Group said, "I am very pleased that Ray and Anastasia have decided to join Phenna Group. NAL have an excellent reputation in Northern Australia and this deal helps augment our growing presence in the Region. Both Ray and Anastasia have been great to work with throughout the process and I very much look forward to them and their highly experienced team, joining Phenna Group."
Phenna Group were advised by Macpherson Kelley and West Carr & Harvey.
NAL were advised by Van Dyk Newbold & Co and Preston Law.
For further information on Phenna Group, please visit: www.phennagroup.com
For further information on NAL, please visit: www.northaustralianlaboratories.com